A Step Forward for Category Management: GSA Maps Product Service Codes to Categories
The Category Management Leadership Council (CMLC) is a council of representatives that come from the agencies who comprise the majority of federal procurement spending. The CMLC's mission is to be the governing body that makes important decisions and sets the direction of the government's category management initiative. The council is chaired by the Administrator of Federal Procurement Policy and it has representatives from the Departments of Defense (DOD), Energy, Health and Human Services, Homeland Security, Veterans Affairs, the General Services Administration (GSA), the National Aeronautics and Space Administration (NASA), and the Small Business Administration (SBA).
Over the last year,the CMLC and the Office of Management and Budget (OMB) took a critical step forward for the federal acquisition community. They developed a government-wide category structure to support category management implementation across the federal government, a major milestone.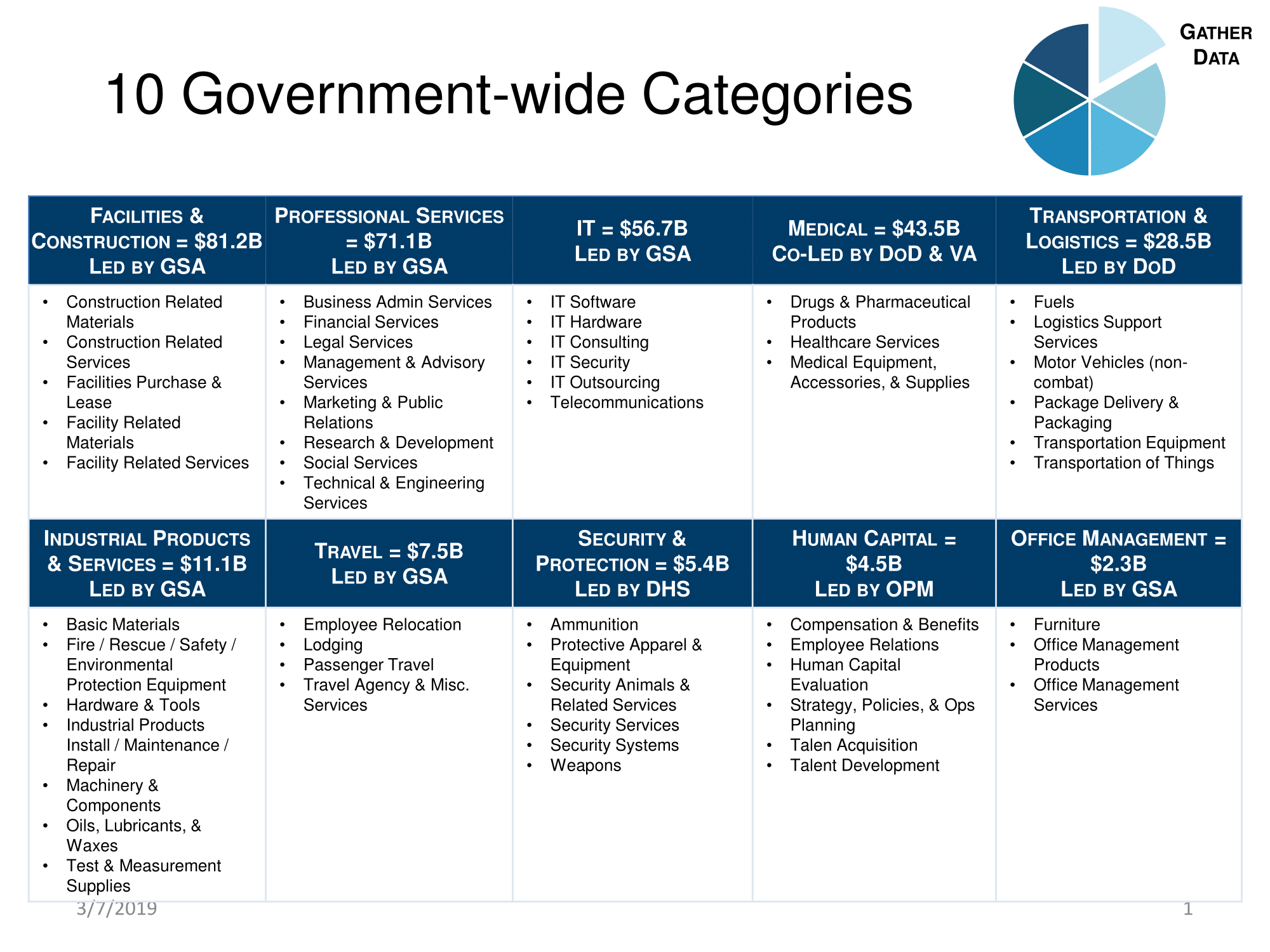 To develop the structure, CMLC and OMB turned to the Federal Procurement Data System (FPDS), which is the system the federal government uses to track its spending for purchases over $3,000. CMLC and OMB looked at FPDS data from fiscal year 2014 and divided it into 19 categories. There are 10 common spend categories, which account for $275 billion worth of purchases on goods and services, and nine additional defense-centric ones; the federal government spent $153 billion on defense-centric categories. Then CMLC and OMB took product services codes (PSCs) and matched them to these 19 categories.
Mapping the PSCs to the 19 spend categories was a multi-step process vital to the development of the government-wide category structure. These steps involved conducting spend analyses to verify the applicability of category structures, soliciting feedback from agencies across the federal government, and integrating federal agencies' inputs into the government-wide category structure.
The CMLC and OMB are working on category management and they will use this category structure to analyze the federal government's spend thoroughly and continuously. They will also use this structure to create category management strategies that make federal procurements more efficient and cost effective.
For information about the Final PSC Category Alignment please visit, https://www.acquisition.gov/psc-manual.