DATA Act Section 5 Pilot
OMB, in collaboration with the Chief Acquisition Officers Council, Department of Health and Human Services (HHS), and the General Services Administration (GSA) is engaged in a multiphase, multifaceted approach that will result in recommendations to reduce reporting burden, standardize processes, and reduce costs for Federal awardees.
Phase 1 (May 2015 – May 2017): National Dialogue and Pilot to Reduce Reporting Compliance Costs for Federal Contractors and Grantees
The dialogue sponsored by the Chief Acquisition Officers Council, HHS, and GSA is generating ideas to streamline reporting for Federal contractors and grantees. Join the Dialogue​ ​.​​​
​Phase 2 (May 2015- May 2017): Pilots for Simplifying Federal Award Reporting
While the recipient reporting for Federal contracts and grants are similar, there are reporting burdens unique to each. To gather recommendations for easing reporting for recipients of Federal contracts and grants, OMB is conducting the pilot with two primary focus areas.
Pilot Focus – Federal Procurement Track
OMB is providing strategic leadership for the procurement pilot and collaborating with GSA and the Chief Acquisition Officers Council for implementation. The objectives of the Section 5 procurement pilot focus are to:
Identify recommendations in the National Dialogue for further review
Develop a central reporting portal prototype and collection tool for FAR required reports, and
Test the portal by centrally collecting select FAR required reports that are currently reported across the Federal government, beginning with collection of reports required under FAR 22.406-6.
The goal is to allow contractors doing business with the Federal Government to submit FAR required reports to one central location in an efficient and effective manner rather than multiple locations and to each contracting officer (CO).
An overview of the procurement pilot focus, test models, and metrics is below.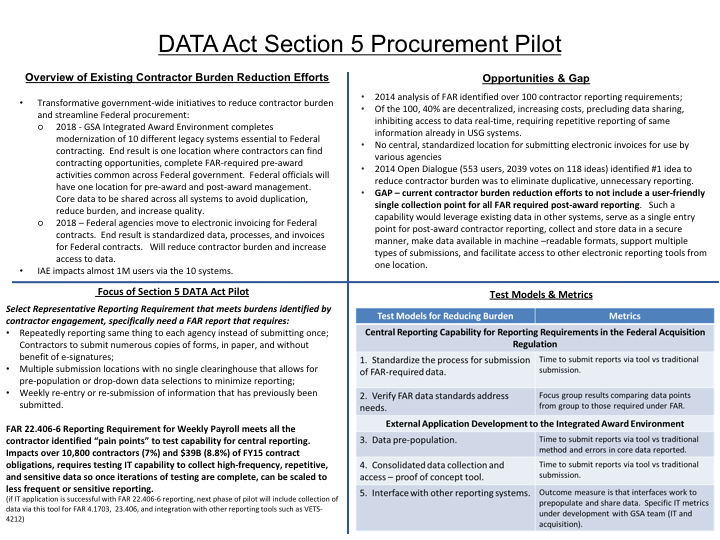 Key Actions:
Analysis of FAR reporting requirements and submission methods – complete
Analysis of results of National Dialogue and relevant stakeholder input – ongoing
Identification of representative reporting requirement for piloting central reporting tool – complete - FAR 22.406-6 represents key input areas from dialogue
Federal Register Notices for Information Collection Requirements – complete
Discovery into central reporting portal, including initial outreach – complete
Prototype for development of tool - complete
Contract award for tool development – complete. Link to FedBizOpps.gov for contract award information.
Key Upcoming Milestones:
Launch of pilot tool and data collection – November 2016
Iteration of tool – through Spring 2017
Introduction of additional FAR reporting requirements to proof of concept tool– Summer 2017
Report on recommendations resulting from pilot data collection - August 2017
Close out procurement pilot data collection – November 2017
Contractors who are required to submit under FAR 22.406-6 and are interested in participating in the pilot data collection tool are encouraged to share their information and interest via SpendingTransparency@omb.eop.gov. Acquisition community members can get updated information about the DATA Act Section 5 Procurement Pilot by following this link to GSA's Integrated Award Environment (IAE) Industry Community.
​